GROWING INTER FAITH UNDERSTANDING AND COOPERATION
Inter Faith Week 2021 will take place from Sunday 14 - Sunday 21 November.
Inter Faith Week's aims are to:
Strengthen good inter faith relations at all levels
Increase awareness of the different and distinct faith communities in the UK, in particular celebrating and building on the contribution which their members make to their neighbourhoods and to wider society
Increase understanding between people of religious and non-religious beliefs
This website contains activity ideas, including ideas for online activities this year, such as 'Inter Faith Week buddies'.
Further information can be found in press releases, on the About page and on the History page.
More information about Scottish Interfaith Week, led by Interfaith Scotland, can be found here.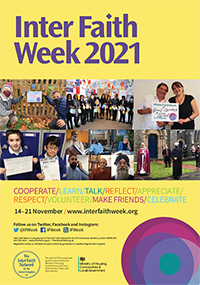 Inter Faith Week 2021 poster
Click the image to download a copy of the Inter Faith Week 2021 poster!
Photos in the carousel above:
North Kirklees Inter Faith Council
Gorsey Bank Primary School, Wilmslow
Board of Deputies of British Jews
OneJain, Shrimad Rajchandra Mission Dharampur, Harrow Interfaith, Harrow Council and Trees for Cities
NHS Digital
Watford Interfaith Association
The UK Government's Faith Minister said:

"Inter Faith Week – now in its 12th year – takes place between 8 and 15 November. It is a tremendous opportunity for faith and belief groups, schools and universities, local authorities, emergency services, healthcare providers, workplaces, sports bodies, cultural organisations, and many more to highlight and encourage inter faith learning and cooperation across society.

It is also a great opportunity to celebrate the enormous contribution that faith communities make to our society – including through the many excellent volunteer initiatives that we have seen during the Covid-19 pandemic.

As Faith Minster, I wish all taking part in Inter Faith Week every success with their activities. At a time when we need to socially distance for the safety of all, your virtual initiatives can play a vital part in sustaining and deepening connections across communities and continuing to build new partnerships."

Lord Greenhalgh, Minister of State for Building Safety and Communities

IFN's Co-Chairs said:

"Inter Faith Week is a time when the spotlight is on the tremendous contribution that faith communities make to society and on work for inter faith understanding and cooperation in the UK. Work to build connections between people of different faiths and beliefs is enormously important, and at this time of COVID-19 finding new ways to make connections is vital.

We are delighted that hundreds of organisations will again be taking part: from faith communities and inter faith initiatives, to schools, colleges, universities, hospitals, hospices, national and local government, housing organisations, workplaces, the police and other emergency services, chaplaincies, museums and libraries, and many others."

The Rt Revd Jonathan Clark and Narendra Waghela, Co-Chairs, the Inter Faith Network for the UK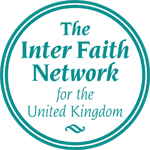 Inter Faith Week is a programme of the Inter Faith Network for the UK.
If you would like to make a donation to support this or another aspect of the Network's work, please visit the support our work page